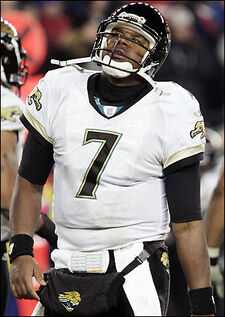 Byron Leftwich  #4
Position 
Quaterback
Height 
6'5"
Weight 
250 lbs
Birthdate 
January 14, 1980
NFL Seasons 
6
College 
Marshall
Byron Anton Leftwich is an American football quarterback for the Pittsburgh Steelers of the National Football League, he is on second string as Ben Rothlisberger is starter. He was born in, Washington D.C., on January 14, 1980. He is currently 29. In 1999 he went to the University of Marshall in Huntingsville, West Virginia. His college career was well played, he started in many of the games unless he was injured. He was the MVP of the 2000 Motor City bowl. He was drafted 1st round 7th pick by the Jacksonville Jaguars. He was a huge hit at the Jaguars, He was a starter until David Garrard replaces him. He had a passer rating of 83.9, and was the quarterback the Jaguars thought he would be. Though when the Jaguars cut him from the team in 2007. After that he played as a back-up for the Atlanta Falcon's for just one year. When the Atlanta Falcon's released him the Pittsburgh Steelers gladly accepted him. He was the back-up of Ben Roethlisberger and mantained a QB rating of 114 and made no Interceptions.
This article is a Stub!
Coach Cowher says "This article could be better, so get in the game and fix it!"

Please expand this article as well as you can!