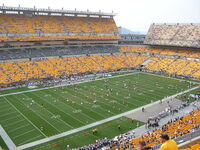 Guys do not see this page it is creepy💩so just do not see it 🤬
Heinz Field is a stadium located in the North Side neighborhood of Pittsburgh, Pennsylvania. It primarily serves as the home to the Pittsburgh Steelers and University of Pittsburgh Panthers football teams, members of the National Football League (NFL) and National Collegiate Athletic Association (NCAA) respectively. The stadium opened in 2001, after the demolition of the teams's previous stadium, Three Rivers Stadium. The stadium is named for a once locally based H. J. Heinz Company, a sponsor of the Stadium.
The First Game Edit
The Steelers first game at Heinz Field occurred on October 7, 2001 with the opponents being the Cincinnati Bengals. The game was won by the Steelers by a score of 16-7. Former Steeler kicker Kris Brown scored the very first points at the stadium with a 26 yard field goal, and quarterback Kordell Steward scored the first touchdown with an 8 yard run.
The Steelers are a successful team when playing at home. Thus far, they have posted a 53-18 record at Heinz Field, (approximately 75% win percentage at Heinz Field). The Steelers worst finish at Heinz Field was 4-4 in the 2003 season. Their best finish was an impressive 8-0 in the 2004 season, a season which saw them finish with a record of 15-1. The Steelers have also played four AFC Championship games at Heinz Field, losing twice to the New England Patriots and winning against the Baltimore Ravens and New York Jets.
Image Gallery Edit
This article is a Stub!
Coach Cowher says "This article could be better, so get in the game and fix it!"

Please expand this article as well as you can!