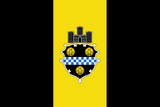 Pittsburgh is the second largest city in the state of Pennsylvania.
Professional Sports
Edit

As home to two of the most successful teams in baseball's former Negro League, the Pittsburgh Crawfords and the Homestead Grays (credited with as many as 14 titles between them and with 11 hall of famers), as well as the first Major League Baseball team to field an all-black lineup, the 1971 Pittsburgh Pirates, "no city is more synonymous with black baseball than Pittsburgh."
The Pittsburgh Pirates play in the Central Division of the National League, and are five-time World Series Champions. The Pirates are also often referred to as the Bucs or sometimes the Buccos (derived from buccaneer). The franchise has won five World Series with the last being won in 1979 against the Baltimore Orioles.
PNC Park is annually ranked as one of the best if not the best Major League parks.

Football is considered the most popular sport in the region, with high school games routinely getting over 10,000 fans per game as well as extensive press coverage. College football is also popular, with residents supporting the local Pittsburgh Panthers, as well as the teams of Penn State or West Virginia. The NFL's Pittsburgh Steelers have been owned by the Rooney family since the team's founding in 1933. The team won four Super Bowls in a six-year span in the 1970s as well as a fifth championship in 2006.

The Pittsburgh Penguins have won three Eastern Conference championships in 1991, 1992, and 2008, and Stanley Cup championships in 1991 and 1992. They are owned by Mario Lemieux, who was on the team from 1984-2006. They play their home games at Mellon Arena, the oldest arena in the NHL, but is being replaced by the Consol Energy Center, slated to open for the 2010-2011 NHL season. Notable NHL players from the Pittsburgh area include Ryan Malone of the Tampa Bay Lightning and R.J. Umberger of the Columbus Blue Jackets.
External links
Edit
Community content is available under
CC-BY-SA
unless otherwise noted.