In the NFL (National Football League), The championship game is entitled "
Super Bowl
". The best team from the AFC (American Football League), and the best team from the NFC (National Football League), are invited to play in this game. The game is played on the first Sunday in the month of February. The winner will go home with the Vince Lombardi Trophy, and all players get a Super Bowl ring.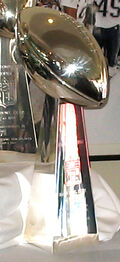 The loser receives nothing. The Super Bowl is also extremely well known for the commercials. Many people talk about the commercials on average it cost $ 3,000,000 for 30 seconds. Many of the commercials are unique and amusing.
Super Bowls are usually intense depending who's playing. The average Super Bowl has over 100 million views. The network that hosts the Super Bowl changes every year, they often show the Half-Time performance. The Pittsburgh Steelers have the most Super Bowl wins with six.
This article is a Stub!
Coach Cowher says "This article could be better, so get in the game and fix it!"

Please expand this article as well as you can!