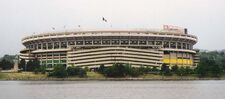 Three Rivers Stadium was a multi-purpose stadium located in Pittsburgh, Pennsylvania from 1970 to 2000. It was home to the Pittsburgh Pirates and the Pittsburgh Steelers, the city's Major League Baseball (MLB) franchise and National Football League (NFL) franchise respectively.
The First Game
Edit
The Steelers first game at Three Rivers Stadium occurred on September 20, 1970 with the opponents being the Houston Oilers. The hopefully memorable day ultimately ended not so memorable for Steeler fans as they witnessed their team lose by a score of 19-7. Ronnie Shanklin achieved the first touchdown and points for the Steelers in their new stadium after catching a 15 yard pass from Terry Hanratty.
The Steelers were successful while playing at home in their 30 year stint at Three rivers Stadium posting a 182-72 record, (approximately 72% win percentage). They backed up their strong regular season's record with a 13-5 playoffs record. From 1972 and all the way through to their final game at the stadium, the Steelers sold out every game. The Stadium is also home to the Immaculate Reception which is considered by many Sports critics to be one of the greatest plays in Steeler and NFL history. In addition, seven AFC Championship games have been played at Three Rivers Stadium. The Steelers won the first four against the Raiders in the first two games, and the Oilers in the next two. All victories led the Steelers to the Super Bowl where they won all four times. The following three AFC Championships would end in defeat to the Dolphins, Chargers and Broncos in 1984, 1994 and 1997 respectively. The latter two proving to be close in score.
Image Gallery
Edit
This article is a Stub!
Coach Cowher says "This article could be better, so get in the game and fix it!"

Please expand this article as well as you can!
Community content is available under
CC-BY-SA
unless otherwise noted.