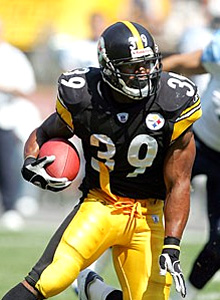 Willie Parker  #39
Position 
halfback
Height 
5 ft 10 in (1.78 m)
Weight 
209 lb (95 kg)
Birthdate 
November 11, 1980
NFL Seasons 
5
College 
North Carolina

Willie Everette Parker, Jr. (born November 11, 1980)[1] is an American football running back for the Pittsburgh Steelers. His exceptional speed has gained him the nickname "Fast Willie".
Early years

Willie Parker was born in Clinton, North Carolina, attended Clinton High School, and was a letterman in football. He was a two-time All-Conference and a two-time All-Region honoree. As a junior, he rushed for 1,329 yards and 20 touchdowns and helped lead his team to the state AA title. As a senior, he rushed for 1,801 yards and 18 touchdowns (while averaging 12.3 yards per carry) and was also named the County Player of the Year.
College career

He attended the University of North Carolina. In his first year he had some success with 355 yards on 84 carries, but was only used sparingly in his last three years due to decisions made by former head Coach John Bunting to restrict Parker's playing time until he "bulked up" to fit within Bunting's attempt at establishing a power running game.[2] In addition, Parker's father has stated that he thought the murder of Parker's best friend from home during Parker's sophomore year made it difficult for him to adapt to the new system at North Carolina.[2]
Parker's experience as a backup in college has since drawn comparison to Hall of Famer Franco Harris, the team's all-time leading rusher and Super Bowl IX MVP, who served as a backup to Lydell Mitchell when he played at Penn State. Supposedly, Joe Paterno preferred Mitchell's style over Harris.
NFL career

Pittsburgh Steelem

2004

Parker was an undrafted free agent with the Steelers in 2004. While at UNC, Parker displayed great speed but little vision, resulting in inconsistent play which led to him being benched in favor of Ronnie McGill during his senior year. Parker was timed several times in the 40 yard dash coming from college. The fastest time was a 4.21.[citation needed]
He spent the 2004 NFL season as a backup player behind Jerome Bettis, Duce Staley and Verron Haynes. During the 2004 season he had his most impressive game in week 17 at Buffalo. Duce Staley started the game and played most of the first quarter; Parker took the rest of the game. He ran for 102 yards in the remaining 3 quarters, including a very long sprint, of 58 yards, that set up a game controlling drive. The Steelers, playing mostly reserves (third-stringer Brian St. Pierre played part of the game at QB) had already sealed the top seed in the AFC that year, but for the Bills, a win could have meant the playoffs. After Parker's performance in this game, head coach Bill Cowher gave Parker extensive playing time during the 2005 preseason.
2005


Parker against the Titans in 2005In his second year, Parker earned the starting job after both Bettis (hamstring) and Staley (knees) missed the first part of the season with injuries. By default, Parker had to play the first game against the Tennessee Titans. He impressed Bill Cowher (as well as Titans coach Jeff Fisher) by gaining 161 rushing yards on 22 attempts (7.3 average). With a 45 yard toss play, and a 48 yard screen play, he was getting major attention from everyone on the field. After following up this performance with another 100+ yard game against the Houston Texans, Cowher said "He's here to stay." "Fast Willie" started 15 of 16 games that season (he was injured in week 9 against the Green Bay Packers and missed the week 10 contest against the Cleveland Browns), finishing with 255 carries for 1,202 yards (4.7 average, a career long 80 yard touchdown run in week 16 against the Browns) and 4 touchdowns. He also finished the season with 218 yards receiving and one touchdown. Willie Parker was the first Steeler back since Bettis in 2001 to top 1,000 yards in a season. Also, he is the second undrafted running back to rush for over 1,200 in the history of the NFL.
Super Bowl XL


Parker receiving a handoffOn the second play of the third quarter of Super Bowl XL, "Fast" Willie Parker scored a 75-yard touchdown, the longest rushing play in Super Bowl history, to give the Steelers a 14-3 lead over the Seattle Seahawks. The previous long was 74 yards by Marcus Allen in Super Bowl XVIII against the Washington Redskins.
Alan Faneca, the All-Pro guard who pulled and made the block that sprung Parker for the touchdown, got an MVP vote as a result of the play. Parker finished the game with 93 yards on 10 carries and an average of 9.3 yards a carry, the third-best average in Super Bowl history (minimum 10 carries)
Parker gave his Super Bowl ring to his father Willie Parker Sr. as a gift.
2006 and 2007

In 2006, Parker signed a major contract with the Steelers, a four-year $13.6 million dollar deal that would solidify his future role on the team. Bill Cowher was quoted as saying that Parker would be a workhorse and receive the goal-line carries in his role as the starter, making him the bona fide #1 running-back in Pittsburgh. On November 12th, 2006, in a home game against the New Orleans Saints, Willie rushed for 213 yards on 22 carries & two touchdowns, 5 yards short of the greatest single-game rushing total in Steeler history. His two long gains of 72 and 76 yards set up Willie touchdowns that capped off the Pittsburgh victory, 38-31. His 76-yard sprint late in the 4th quarter was the longest rush in Heinz Field history.
On December 7th against the Cleveland Browns, Willie Parker broke the all-time Steelers rushing record for a single game, gaining 223 yards on 32 carries & 1 touchdown before being taken out of the game in the third quarter. The record was previously held by Frenchy Fuqua. Parker also became the only Steelers running back to have two 200+ yard games in the same year.
Parker played in (and started) all 16 regular season games. He compiled 1,494 yards on 337 carries (4.4 average) with 13 rushing touchdowns. He also had 12 runs of 20 or more yards. Parker also caught 31 passes for 222 yards (7.2 average) and 3 touchdowns. In addition, his 16 combined scores broke the previous Steelers single-season touchdown mark of 15 set by Louis Lipps in 1987. Parker served as a backup to LaDainian Tomlinson and Larry Johnson in his first Pro Bowl, where he would finish the game with 40 yards on 2 carries.
Parker was productive in 2007 as well, rushing for 1,316 yards but only 2 total touchdowns, on the year he had 9 100-yard plus games, earning a second consecutive Pro Bowl berth before being injured late in the season. Parker suffered a broken right fibula early in a game against the St. Louis Rams on December 20, 2007, ending his season.[3] He was replaced by backup Najeh Davenport. Parker led the league in rushing yardage at the time of his injury.
2008

Coming off of his broken leg near the end of the 2007 campaign, there were questions surrounding Willie Parker's ability to recover. He played little in the preseason, giving way to Rashard Mendenhall for much of the time. The first game of the year was against the Houston Texans. In this game, Parker would record 138 rushing yards and a career-high 3 touchdowns, all before the fourth quarter ever started. The Steelers got up 35-3 in the third quarter, and opted to pull some of their starting players. He was the leading AFC rusher for the week and was named the AFC Offensive Player of the Week.[4] However, Parker suffered a knee injury about four games into the season. It seemed like a rather minor injury but Parker has missed at least three games. His back-up, Rashard Mendenhall, suffered an injury and was placed on injured reserve. The third running back, Mewelde Moore, has produced rather well in Parker's absence. Parker did not play again until the week 9 matchup against the Redskins. In the game he gained 70 yards and scored his fourth TD of the season and 23rd rushing TD in his career. The next week he sat out again against the Colts. The next week he came back with 115 yards on 25 carries against the Chargers. Two weeks later against the Patriots, Parker ran 31 yards for his second longest gain of 2008, he finished with 87 yards on 16 carries. He finished off the season strong with 116 yards on 23 carries and a 34 yard TD sprint for his longest run in two seasons and fifth TD this season. He finished his season with 791 yards on 210 carries and 5 TDs. He was almost non-existent in the passing game receiving only 4 balls for 13 yards all season.